An international medical consultation via live TV between Vietnamese doctors and their peers from Japan's International Health Clinic in Tokyo and Australia's University of Sydney has taken place for the exchange of experience in treating the epidemic.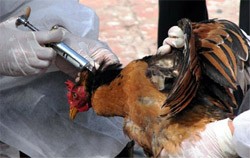 A vet injects vaccine to a poultry
Dr. Nguyen Thi Tuong, who works in the Institute of Epidemiology and Bach Mai Hospital, shared experience in treating a serious case of bird flu on human. Twenty-one-year-old patient Nguyen Sy Tuan, who lives in the northern province of Thai Binh, has recovered from avian flu after three-month treatment. He took Tamiflu and other drugs to heal injuries in body organs caused by H5N1 virus.
Doctors of Japan and Australia complemented Vietnamese colleagues on their efforts to cure patients while their medical equipment still is not modern. They also expressed desires to come to Viet Nam to learn experience.