The People's Committee of Quang Ngai Province and the Management Board of Dung Quat Industrial Zone and Gemadept International Port Joint Stock Company started the construction of Dung Quat-Gemadept International Port in Binh Thuan Commune, Binh Son District on July 15. The new port, which is located next to the current port of Dung Quat 1, is invested by Gemadept Company.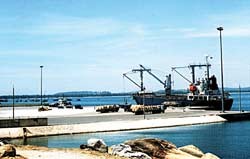 Seaport at Dung Quat Industrial Zone
Out of the total VND575 billion investment, VND350 billion is spent dredging and leveling the site for the construction of port bridge, logistic area and loading equipment from July 2006 to quarter 2 of 2007. The second phase is carried out in 2008.
Upon completion, the international port will receive goods and container ships of 30,000DWT with the capacity of 1.5 to 2 million tons of goos annually. It is the first large scale international port is invested entirely by a local joint stock company, starting the trend of the private sector participating in the investment of infrastructure and service of sea ports in Viet Nam.
On the same day, Dung Quat Ship Building Company (Vinashin) started the construction of a cargo barge with the loading capacity of 18 tons. The 5,300 square meter barge, which cost VND150 billion, is expected to be finished in 3 months.