The General Forest Department joined the Vietnam National Museum of Nature and the Vietnam Forest Science Association in a ceremony to launch the International Year of Forest 2011 in Hanoi on April 1.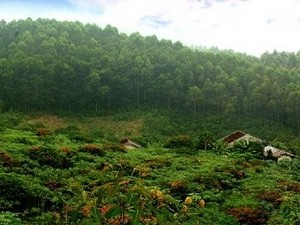 File photo shows one of forests in Vietnam
The ceremony was also in response to the United Nations Decade for Deserts and the Fight against Desertification that runs from 2010 to 2020.
The events aim was to enhance awareness of forest conservation, strengthen afforestation, protect seashores against desertification and deal with droughts and climate change.
Nguyen Ba Ngai, deputy head of the General Forest Department affirmed the important role of forests in climate change, flood prevention and natural disasters. However, he noted that illegal forest exploitation was still a very complicated matter.
Vietnam has been implementing synchronised measures to strengthen afforestation, protect seashores and deal with droughts and climate change.
To respond to the International Year of Forest 2011, the management board launched a photo contest named "Vietnam Forest".
The content of the contest is based on the value of forests, diversified biology, people's proximity to forests and activities to protect and develop forests.

Over the past two decades, the Vietnamese Government and citizens have made great efforts to restore, safeguard and develop their forests, said Ngai. The country's forest coverage has increased from 27.2 percent in the early 1990s to 39.5 percent in 2010, an increase of 0.4 percent per year, he added.

Vietnam's forest acreage has increased continuously from 1995 to 2009 thanks to both afforestation measures and restoration of natural forests. In addition, the quality of forests has also improved.