Interplast Australia & New Zealand, a charity that provides teams of medical volunteers to undertake programs of plastic and reconstructive surgery and training in neighbouring countries, has sent a team to Vietnam.
The team, led by Dr Alan Meares, who have visited Vietnam different times for the same mission, visit the Burns Unit at Cho Ray Hospital from August 10 – 14 and provide free surgical treatment for burns patients and education and training for the surgical, anaesthetic and nursing staff.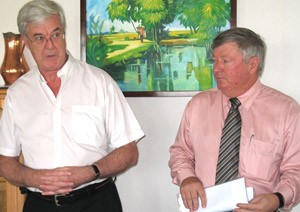 Dr Alan Meares (L) briefs about Interplast during his working visit in Hochiminh City in Feb. 2008. Next to him is then Australian Consul General Mal Skelly (Photo: Tuong Thuy)
This visit has been co-ordinated with the assistance of Dr Tran Doan Dao, Director of the Burns Unit and Dr Hoang Hoa Hai, Director of Education and Training at Cho Ray Hospital.
After Cho Ray Hospital., the Interplast team will be travelling to Quang Nam Province to carry-out similar work at Quang Nam General Hospital.
Funding for this program is provided by the Rotary Club of Chelsea in Victoria, Australia.
Interplast sends approximately 30 programs to approximately 16 countries each year and sponsors doctors and nurses to receive part of their training in Australia.