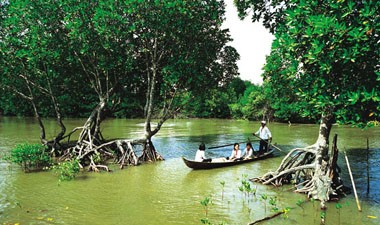 A corner of mangrove forests in Ca Mau Province (Photo: Ca Mau Province's website)
SNV Netherlands Development Organization and the International Union for Conservation of Nature (IUCN) will grant EUR 1 million to Ca Mau Province at Vietnam's southernmost tip to help restore the mangrove forests, said Le Van Su, director of the Department of Agriculture and Rural Development on May 14.
The sum of EUR 1 million will be used to restore the mangrove forests through breeding shrimps and reducing waste from breeding farms.
The project aims to connect farmers, forest owners and enterprises who purchase aquatic animals for export. It will also help in the sustainable development of the area and raise the living standards of residents in these parts.

The project will be ongoing till 2016.