On August 12, the People's Committee of Binh Dinh Province inaugurated the International Center for Science and Interdisciplinary Education.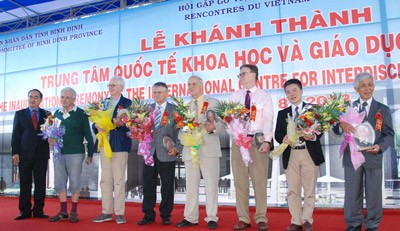 Dep. PM Nguyen Thien Nhan along with five Nobel Prize Laureates (Photo: Ha Minh)
The International Center, built over an area of nearly 20 hectares in Ghenh Rang Ward, was funded by Professor Tran Thanh Van. The center includes two halls, two workshops and several other working rooms.
The inauguration ceremony was attended by Mr. Nguyen Thien Nhan, Deputy Prime Minister, five Nobel Prize Laureates of Physics, Professor Ngo Bao Chau and nearly 200 scientists from 30 countries.
After the inauguration ceremony, local and international scientists took part in a conference to discuss current world topics. The conference was presided by Professor Sheldon Lee Glashow (Nobel Prize in Physics in 1979) and Professor Klaus von Klitzing (Nobel Prize in Physics in 1985).