"After 20 years of renewal, Viet Nam has achieved a lot of important accomplishments in socio-economic development, particularly in terms of the eradication of hunger and the reduction of poverty", said Deputy Minister Cao Viet Sinh of the Planning and Investment Department at the closing ceremony of the Third International Roundtable on Managing Development Results, which opened in Ha Noi on Feb. 6.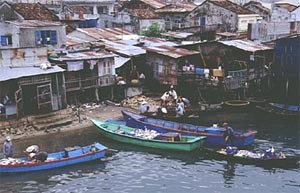 International donors pledge to help Viet Nam further the development of infrastructure and reduce poverty
Deputy Minister Sinh added that the international community has made significant contributions to the country's growth, among which the official development assistance (ODA) fund is a prime example.
 
Haruhiko Kuroda, President of the Asian Development Bank, stressed that the international community will continue to grant development assistance to Viet Nam to further the development of infrastructure, boost rural industrialization and reduce hunger and poverty.
 
He said however, that Viet Nam needs to speed up the implementation of ODA projects, manage its finances more transparently, and continue reforms to the country's market economy.
 
The third roundtable, with an attendance of more than 500 governmental officials and experts from 40 countries and territories around the world, was hosted by the government of Viet Nam with the assistance of the African Development Bank, the Asian Development Bank and the Development Assistance Committee of the Organization for Economic Cooperation and Development.
 
The main objective of the biennial event is to determine the most effective ways to utilize the pool of global international development aid, valued in 2005 at US$87 billion.
 
The first roundtable was held in Monterrey, Mexico in 2002 and the second, in Marrakech, Morocco in 2004.
The progress made by the government of Viet Nam with ODA resources in recent years, along with its prudent management of the funds, has drawn commitments from more donors to the country.
 
By the end of 2006, ODA funding to Viet Nam for 2007 had reached US$4.45 billion.