The fifth international conference on Vietnamese studies concluded in Hanoi on December 16 afternoon after two days of in-depth discussion on sustainable development issues.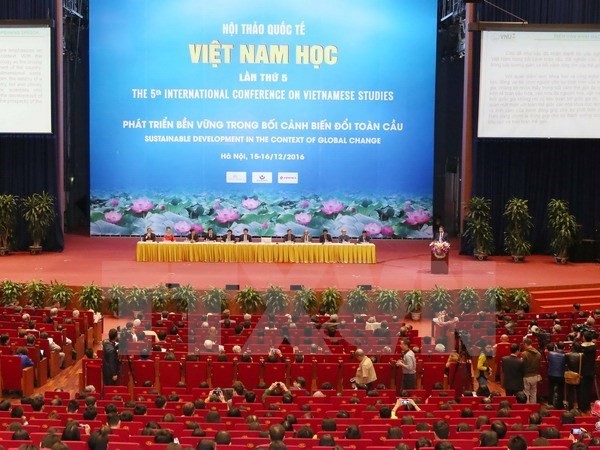 The fifth international conference on Vietnamese studies takes place in Hanoi on December 15-16 (Photo: VNA)
In his closing speech, head of the organising board Prof. Nguyen Huu Duc – Deputy Director of the Vietnam National University, Hanoi (VNU) – said through this event, organisers identified 10 research establishments strong at traditional issues of Vietnamese studies, and 10 others based in other countries which are strong at Vietnam's science-technology issues. Those establishments have released many in-depth research findings about Vietnam.
Organisers also recognised 50 leading researchers on Vietnamese studies, including foreigners, Vietnamese expatriates and Vietnamese people who are working in the country.
The professor noted his university will begin publishing a journal on Vietnam in 2017 which will be a platform for domestic and foreign scientists to publicise their studies on the country, thus strengthening exchanges between readers and researchers and developing Vietnamese studies around the world.
The VNU-Hanoi will also speed up the building of a big archives centre specialising on Vietnamese studies in the suburb of Hanoi, Duc said.
He added there are a large number of materials and documents about Vietnam around the world. They need to be collected and kept in one centre to serve comprehensive research on Vietnam.
The Vietnam Academy of Social Sciences will be the host of the sixth international conference on Vietnamese studies in 2020.