Four international organizations have pledged to provide around US$1.5 million to Ninh Thuan in an effort to help reduce poverty in the central coastal province between now to 2010.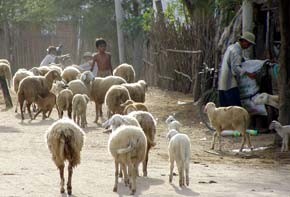 Sheep breeding in Ninh Thuan (Photo: Tuong Thuy)
The commitment was announced at a conference to boost cooperation between Ninh Thuan and foreign organizations and NGOs held in Ha Noi Thursday. The sum will come from Oxfam, UK Action Aid, the Counterpart International of the US and the United Nations' Population Fund.
Addressing the conference, the Ninh Thuan People's Committee Chairwoman said the province had received US$4.1 million in aid commitments from NGOs of the Netherlands, Germany, Belgium, Japan and the UK from 1992-2007. The province has disbursed US$2.9 million of the total value.
She said those projects effectively helped the province overcome difficulties, reduce poverty and develop socio-economy, especially isolated and remote areas. In addition, the projects also helped improve capacity of officials and local people.
At the conference, the provincial Trade and Investment Promotion Center called for foreign investors to invest about VND6.5 trillion (about US$406 million) in the province's tourism and processing industry for the next two years.
Projects waiting for investment include the Ocean Park, the Thai An Turtle Reserve, the Nam Cuong sand hill resort, the Mui Dinh adventure tourism area, a salt refining plant, a seafood-processing plant, a canned-food plant, a garment plant and a grape processing plant.
Ninh Thuan covers 3,360 square kilometers and has a population of nearly 600,000. The province's per capita GDP was VND6.6 million (US$415) in 2007.