The Ministry of Transportation on Monday admitted that a Japanese engineer working for the Can Tho bridge project's supervising consultant had issued a warning three months before the collapse of two spans of the Can Tho bridge. The report was received and approved by the contractor; however, the tragedy was not prevented.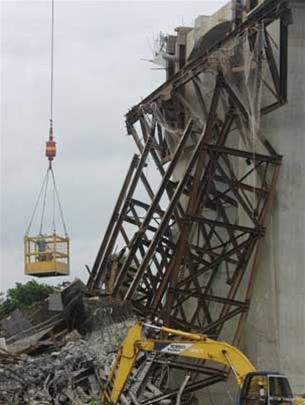 The wreckage of Can Tho bridge(Photo: TTO)

According to the Ministry of Transportation, a consortium of Japanese contractors—Taisei, Kajima, and Nippon Steel—on February 12 sent alternate designs for the support system of the bridge's main spans to the supervising consultant—Nippon Koei-ChoDai—and asked the consultant to consider them for approval.

The supervising consultant on March 7 asked the main contractor to re-test the bridge support system. In June, the main contractor, again, gave the supervising consultant a modified design for the supporting system.

Additionally, the contractor's permanent engineer, Akiyama, assigned Hiroshi Kudo, an engineer for the supervising consultant, to examine and verify their report.
After inspecting bridge conditions, Hiroshi sent an internal memo to Akiyama saying that the scaffolding system met only 15% of the safety index required, and the working conditions were very dangerous. He recommended that the contractors reconsider the design.

The main contractor then issued another report proposing new measures to modify and upgrade the support system; that report was approved by the supervising consultant.

With such widespread knowledge of the danger and several clear attempts to correct it, how did this accident still occur? The question is still being investigated by both the contractors and the consultants, the Ministry of Transport concluded.

Meanwhile, the Government Office issued a memorandum asking relevant authorities to further resolve the aftermath of the accident and distribute relief money properly in order to avoid continued losses.

The Ministry of Transportation on Monday established a group of senior technical experts to investigate the cause of Can Tho bride collapse.

The Ministry of Public Security will work with Vinh Long Province's police to discuss the probability of taking this case to the court.

The deadly accident, which occurred at 8 a.m on September 26 on the Can Tho bridge, has left 50 dead, 81 injured and three still missing. 
 
Related articles:
Investigators Divided Over Cause of Bridge Collapse
Memorial Service for Victims of Can Tho Bridge Collapse
Leaders Urge Nation to Support Victims of Can Tho Bridge Collapse