For the sake of the country's economic recovery, the State's total investment should not be decreased and should be maintained at around 41 percent of the GDP, Prime Minister Nguyen Tan Dung has said.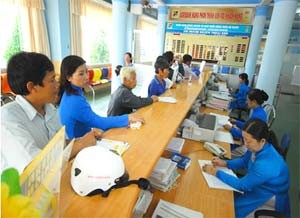 Customers at a branch of the Bank for Agriculture and Rural Development in An Giang Province's Thoai Son District. PM Dung Thusrday said that loan subsidies would continue for farmers who need to purchase equipment. (Photo: Dat Viet)
The PM was speaking at the Government's monthly meeting on October 29 in Hanoi, in which the country's economic stimulus policy was the focus of discussion.
Vietnam has just rebounded from a slowdown, so if the stimulus policy is stopped and invesment is cut, the economy could be at risk, the PM said.
Specifically, investment capital of VND125 trillion (US$7 billion) from the State budget and VND65 trillion from Government bonds would not be reduced, the PM stated.
He also asked the Finance Ministry to reduce the budget deficit by increasing its revenue and working to avoid losses.
In regards to the subsidized loan program, the PM said it should end as proposed by some ministries. However, for a number of selective exporters or labor-intensive businesses, the program can be maintained until the middle of next year at a subsidized interest rate lowered from 4 percent to 1 or 2 percent.
In addition, loan subsidies will continue for farmers who need to purchase machinery and equipment for agricultural production, the PM said.
He also asked concerned agencies, including the State Bank of Vietnam, to improve procedures related to granting subsidized loans to farmers.