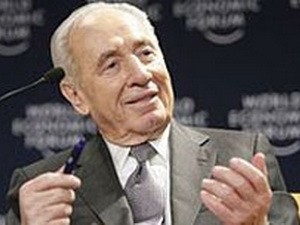 (File) President of the State of Israel Shimon Peres
President of the State of Israel Shimon Peres will pay an official visit to Vietnam from Nov. 22-26 at the invitation of Vietnamese President Truong Tan Sang.
This will be the highest level visit by an Israeli leader to Vietnam since the two countries set up diplomatic ties in 1993.
Located in the east of the Mediterranean Sea, Israel has an area of nearly 21,000 sq.m and a population of around 7.5 million.
In 2010, the country posted an economic growth rate of 3.4 percent to 201 billion USD. It is one of the 25 countries having the highest per-capita income in the world.
Since Vietnam and Israel established diplomatic ties on July 2, 1993, the two countries have carried out numerous activities to expand mutual understanding and boost cooperation in economics, training and sharing scientific and technological experience, especially in agriculture, irrigation and health.
In March 2010, Vietnamese Prime Minister Nguyen Tan Dung approved a policy of boosting multi-faceted cooperation between the two countries. Israel has also attached importance to developing ties with Vietnam, having sent many high-ranking delegations to the Southeast Asian nation.
Two-way trade between Vietnam and Israel exceeded 220 million USD in 2010, representing a 34 percent over 2008. Vietnam exports footwear, clothes and agricultural products to Israel while imports hi-tech equipment, chemicals and fertilizer from this market.
This year, Israel continues to provide supplementary credits worth 100 million USD for Vietnam.
Israel now ranks 54th among 93 countries and territories investing in Vietnam with nine projects capitalised at nearly 33.8 million USD. Israeli companies have invested in some projects in Hanoi, Ho Chi Minh City and Khanh Hoa province.
With its expertise, Israel has sent experts to Vietnam to transfer technology and develop pilot agricultural farms in Hanoi and the northern province of Ha Giang. Several agricultural cooperation projects using the Israeli technology in Hanoi, Hai Phong, Nghe An, Lam Dong and Ho Chi Minh City have recorded initial results.
In addition, Israel has regularly provided Vietnamese students with short-term training scholarships in science and technology, agriculture, irrigation and the environment.
Over the past years, Israel has sent a number of delegations of doctors to provide free medical check-ups and treatment for people in Vietnam's northern and central provinces.
Israel is one of Vietnam's labour markets, which received 1,000 guest workers in 2010.