The Electricity of Vietnam Group on Wednesday signed a contract with the Japan Atomic Power Company (JAPC) for consulting services to make a site approval dossier and feasibility study for Vietnam's second nuclear power plant.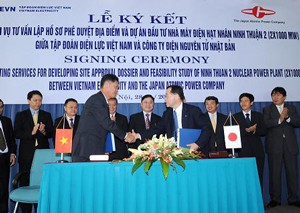 (Front) Representatives of the Electricity of Vietnam Group and Japan Atomic Power Company ink their deal in Hanoi September 28, 2011 (Photo: Electricity of Vietnam courtesy)
Both planned power plants would be located in the south central province of Ninh Thuan, and the agreement is for the Ninh Thuan 2 plant.
Under the agreement inked in Hanoi, the Japanese government will fund ¥2 billion for the consulting services, which JAPC will supply in 18 months
The plant, to be located in Vinh Hai Commune of Ninh Hai District, will have two advanced light water reactors, each with a designed capacity of 1,000 megawatts, said an Electricity of Vietnam announcement.
The plant is part of the Ninh Thuan Nuclear Power Project to be developed by the Electricity of Vietnam Group.
The State utility already has plans to start building reactors from 2014.