The Japanese Government has given US$183,778 for a grassroots rural development program and a medical project under an ongoing assistance program on 3rd and 4th November.
Ikuo Mizuki, the Japanese consul in Ho Chi Minh City, handed over the money to Le Van Hong, chairman of Kien Giang's Union of Friendship Organizations on November 3.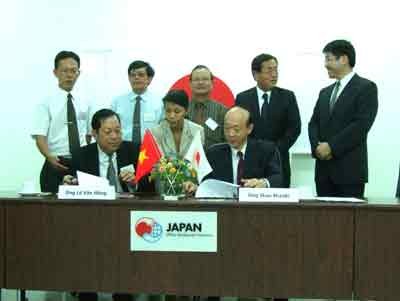 Japanese consul in HCMC, Ikuo Mizuki (sitting R), and Le Van Hong (L), the leader of Kien Giang, sign an agreement under which Japan will fund construction of five rural bridges in the Mekong Delta province (Photo: U. Phuong)
Of the amount, US$86,928 will be used to constructing  five rural bridges (18.2 - 47m in length) in the Mekong Delta province of Kien Giang's districts of Hon Dat, Tan Hiep, Chau Thanh, Vinh Thuan and An Minh.
The project aims to ensure traffic safety for 114,000 residents in the area, including children going to school.
The second project, to cost US$96,850 involves buying some urgently needed equipment for the medical center, including a mobile x-ray machine, auto biochemical analyzer, and incubators.
Dang Van Thuong, director of the Khanh Son District Medical Center in the central province Khanh Hoa received the sum from Mr. Mizuki on November 4.
Khanh Son is located in a mountainous region 100 km from Nha Trang. Nearly 80 percent of its population belongs to ethnic minority groups and the poverty rate is more than 50 percent.
Through the project, the center will be able to provide better medical service to 21,500 residents and reduce the number of patients it has to transfer to larger hospitals elsewhere.
At the ceremony, Mr. Ikuo Mizuki stated he remained hopeful that, through these two projects, Japan and the two provinces of Khanh Hoa and Kien Giang will forge even closer friendly relations.