The Japanese Government has given almost US$165,800 for two grassroots rural development and school projects as part of an ongoing assistance program.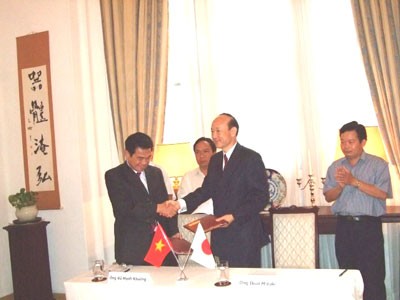 Japanese consul Ikuo Mizuki (C) hands over the grant to Vu Manh Khuong (Photo: Bao Chau)
Under the Grassroots and Human Security Projects, Mr. Ikuo Mizuki, the Japanese consul in Ho Chi Minh City, handed over the money to Vu Manh Khuong, director of the Branch of Cooperatives and Rural Development in the central highlands province of Dak Nong at the Japanese Consul General's Residence at 150 Nguyen Dinh Chieu Street in District 3, HCMC on January 20.
Of the amount, US$88,200 will be used to build water supply systems at BuNdor A and B hamlets in Quang Tam Commune.
Most of the 142 families in these poor, mountainous hamlets live off crops and animals.
Almost a third use rainwater and water from shallow wells, and from rivers and streams in the dry season. These sources are becoming increasingly contaminated and more than 60 people suffer from dysentery, diarrhea, parasites, or eye diseases every year.

By building a water supply system and a deep well in each of the hamlets, the project aims to provide their 776 people access to clean and safe water throughout the year.
The second project, to cost US$77,600, involves building the Vu A Dinh Junior High School in the remote, mountainous Dak Som village.
An increase in migration to this region, mostly by ethnic minorities from the northern mountains, is causing a growing concern about the shortage of educational facilities.
The project aims to improve the learning environment for children in Dak Som and stop them from dropping out.