Japan is committed to furthering cooperation with Vietnam in agriculture and fisheries, and hopes the Vietnamese Government will facilitate the implementation of the target projects.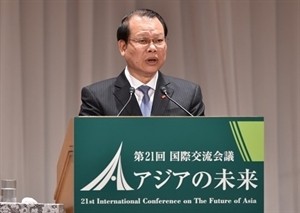 Deputy Prime Minister Vu Van Ninh speaks at the 21st International Conference on the Future of Asia (Photo: VNA)
Japanese Minister of Agriculture, Forestry and Fisheries Yoshimasa Hayashi made the statement at talks with Vietnamese Deputy Prime Minister Vu Van Ninh in Tokyo on May 22.
The Minister said Japan will assist Vietnam in developing the value chain of farm produce, build boats for fishermen and the fishing inspection sector, and exploiting ocean tuna.
Deputy PM Ninh said he hopes the Japanese Ministry of Agriculture will help to increase the presence of Vietnamese farm produce and seafood in the Japanese market.
Earlier the same day, Deputy PM Ninh, who is on a Japan working visit, hosted separate receptions for a number of Japanese business organisations.
At the meeting with President of the Japan International Cooperation Agency (JICA) Tanaka Akihiko , the Deputy PM said he hopes the agency will persuade the Japanese Government to maintain official development assistance (ODA) for Vietnam, while calling on Japanese firms to expand investment in the Southeast Asian country, especially agriculture.
He noted several successful cooperative projects in the field of fishery and agriculture such as the cultivation of organic vegetable in the Central Highlands city of Da Lat and the tuna fishing project in the central region.
For his part, Tanaka Akihiko said JICA will continue to help Vietnam improve the investment environment to attract more Japanese firms.
While receiving President of Japan-Vietnam Economic Committee under the Japan Business Federation (Keidanren) Takahashi Kyohei , Deputy PM Ninh said Vietnam is actively implementing policies to support foreign investors, including those from Japan .
He noted that Japan 's investment in Vietnam has increased three folds against the previous time.
Takahashi Kyohei said Keidanren will continue to enhance economic links with Vietnam based on the agreements signed between the two sides.
He added that the Vietnam-Japan joint initiative has entered the sixth phase, which is expected to improve the respective investment climate and cooperation between the two countries.
During talks with Vice President of the Japan External Trade Organisation (JETRO) Satoshi Miyamoto, Deputy PM Ninh asked for JETRO's help to develop the support industry and increase the competitiveness of Vietnamese small-and medium-sized enterprises.
The Vietnamese Government will continue to fine-tune its import-export policies to develop domestic market and simultaneously benefit Japanese businesses.
Satoshi Miyamoto revealed a JETRO recent survey which showed that up to 70 percent of Japanese businesses want to expand investment in Vietnam .
The organisation vows to actively assist Vietnam with developing support industry and hopes the Vietnamese Government, ministries and sectors will create all favourable conditions for Japanese investors, he said.-VNA