The Department of Culture, Sports and Tourism in the central province of Thua Thien-Hue and the Vietnam-Japan Friendship Association hosted a ceremony to receive the memorial stele of patriot Phan Boi Chau from the Japanese Asaba Association and the people of Japan, on June 7.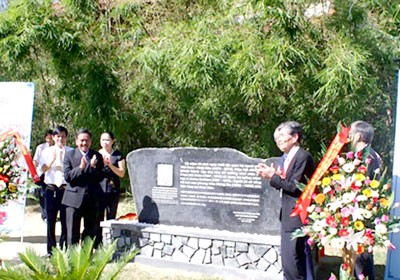 At the ceremony to receive the memorial stele of Phan Boi Chau in Thua Thien-Hue Province (Photo: SGGP)
The memorial stele has been placed near Phan Boi Chau statue alongside Huong River in Hue City, in memory of his service for the liberation of Vietnam from the French colonial regime and to mark Vietnam-Japan friendship.
When the Dong Du (Travelling to the East for study) Movement met with difficulties in 1908, Phan Boi Chau met with Asaba Sakitaro--a Japanese doctor, who helped him in his time of turmoil.
After leaving Japan, Phan Boi Chau continued his activities in several countries in the world. In 1918, he returned to Japan and learnt that his friend had passed away nine years ago.
Phan Boi Chau and people from Asaba Umeda Village in Fukuroi City then raised funds for a memorial stele of the late doctor near his tomb.
The Asaba Association and the Japanese people have now presented a stele in honor of Phan Boi Chau to Hue City. This is to commemorate both Phan Boi Chau and Asaba Sakitaro and promote the strong friendship and cooperation between Thua Thien-Hue Province and Fukuroi City.