The modern technology equipment will deodorize water in To Lich River after three days of operation.
The Japanese environment experts spent two years for investigation and survey to suppose this proposal, therefore they hoped this modern technology would actively support Vietnam in waste water treatment.
PM Nguyen Xuan Phuc said that Vietnam paid a special attention to environment issue because it was an important problem in the country's development process.
The problems which Dr. Tadashi Yamamura talked about during this visit will be considered as practical issues for Vietnam.
Additionally, PM Nguyen Xuan Phuc welcomed the proposal offering free aid of pilot wastewater treatment under a river bank across To Lich River and an edge of Ho Tay (West Lake) with application of new technology.
The implementation is a good idea and suitable policy of Party and Government of Vietnam, aiming to strengthen environmental protection in the period of national industrialization and modernization, added PM Phuc.
The Vietnamese leader appreciated the Japanese side's capital mobilization from socialization source to implement the work.
On the occasion, PM Phuc also suggested that the Japanese experts and the Japan-Vietnam Environmental Improvement Joint Stock Company (JVE) to work with the Ministry of Natural Resources and Environment and the Hanoi city People's Committee to study and decide on the plan in accordance with regulations, ensuring quality and efficiency because this is a good foundation for dealing with polluted water in other localities.
With the experience, the Japanese side would be successful in the wastewater treatment in capital city of Hanoi, PM Phuc expected
The Ministry of Natural Resources and Environment will summarize, evaluate and report to the Prime Minister after the implementation.
To Lich River has total length of 14 kilometers across six urban districts of Ba Dinh, Cau Giay, Dong Da, Thanh xuan, Hoang Mai and rural district of Thanh Tri. In recent years, the bad smell and river pollution have become an obsession for the local people and tourists when they travelled near the river.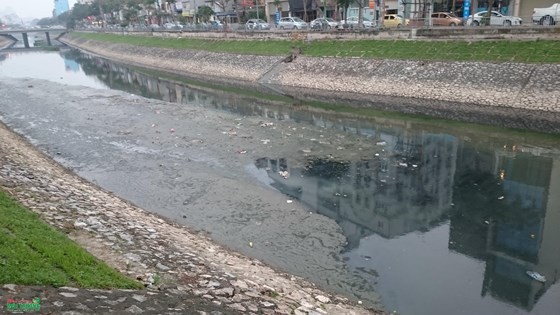 Bad smell and river pollution have become an obsession for the local people and tourists when they travel near the river.