At the first anniversary commemorating the earthquake and tsunami disaster in Northeast Japan on March 11, 2011, Hida Harumitsu, Japan's Consul-General in Ho Chi Minh City, sent a letter on behalf of his country to the government and people of Vietnam, expressing appreciation and gratitude for the assistance given to Japan during this tragic period.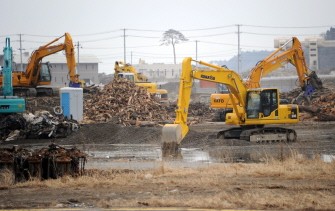 Heavy machinery removes the remnents of tsunami devastation in Rikuzentakata city, Iwate prefectura on March 8, 2012 as a 10-metre-high pine tree stands in the background after surviving the March 11 tsunami. (AFP Photo)



In his letter, Hida Harumitsu expressed his profound gratitude for all the sympathy and timely financial support by the Vietnamese people, young and old, government and citizens, companies and associations, for Japan's disaster victims.

The Consul-General admitted that last year was one of the most difficult years for Japan. Step by step, the Japanese government and its people will rebuild damaged infrastructure and recover the economy.

One year has gone and almost everything has returned to normal. In fact, the supply chains are now fully functional and ready to serve tourists, overseas students, as well as business people and are targeting expanding their markets.

He also said that through this horrible disaster, his fellow citizens are more aware of their own resilient character and also appreciative of the whole-hearted support of the international community.

The Consul-General stated that his country's wish was to convert to an environment-friendly economy, actively find measures to prevent similar disasters in the future, resolve existing reconstruction problems, and turn Japan into a role model of an advanced nation, better placed to serve the world.

At the end of his letter, Hida Harumitsu once again thanked all the Vietnamese people for their help and a special thanks to Sai Gon Giai Phong Newspaper for an opportunity to deliver his message.