Vietnamese Prime Minister (PM) Nguyen Xuan Phuc received chief representative of the Japan External Trade Organization (JETRO) in Vietnam- Atsusuke Kawada at Presidential Palace yesterday.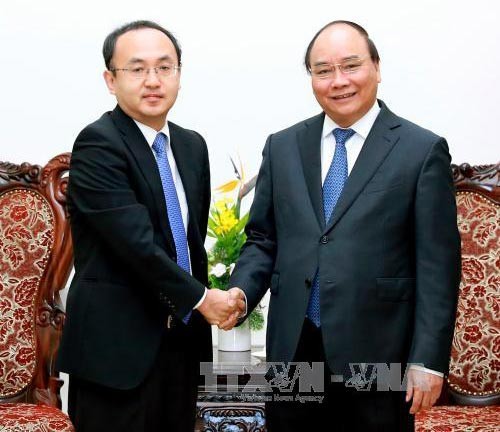 Vietnamese Prime Minister Nguyen Xuan Phuc (R) and chief representative of JETRO in Vietnam Atsusuke Kawada (Photo: VNA)

At the meeting, PM Phuc thanked to active assistances of JETRO stressing that the official visit of Japanese Prime Minister Shinzo Abe last month and the upcoming visit of Japanese Emperor and Queen show a good signal to Vietnam- Japan ties.

The Vietnamese PM desired that the JETRO will continue collaborating with Vietnam's functional agencies and localities in calling on the large scale investment projects from the sunrise country to invest in Vietnam this year, focusing on the goals such as image advertisement, economic & society development, investment environment, potentialities, cooperative & investment opportunities...

The both sides will strive to cement the bilateral ties. Vietnam expects Japan to early become the leading investor of Vietnam, contributing in Vietnam's socio-economic development.

The Southeast Asian country attracted around 540 Japanese projects last year, proving that the partner had paid much attention to the country's potential market. In recent years, the number of small- large scale investment projects into Vietnam has been increased year-on-year, said Mr. Atsusuke Kawada.