Japan is set to send a team of experts to investigate the cause of the collapse of a Japanese ODA funded bridge in southern Viet Nam last month which claimed 53 lives, said the Vietnamese construction minister on Friday.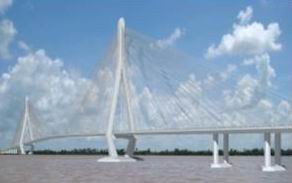 An artist's impression of Can Tho Bridge, two of its spans went crashing down on September 26, 2007
The US$295 million Can Tho bridge was being built across the Hau River, connecting Can Tho City to Vinh Long Province when its two main supports crumbled. An ad-hoc committee formed to probe into the accident visited Can Tho and worked with local officials and Japanese contractors on Friday.
 
During a press conference, the committee chairman, Construction Minister, Nguyen Hong Quan reported that authorities are conducting a thorough investigation.  At present, the focus is on whether Japanese builders, Taisei Corporation, Kajima Corporation and Nippon Steel Corporation (TKN) used secondhand steel for the scaffolding as has been alleged.
He also stated that the contractors had reinforced the steel frame to meet safety requirements when supervisors checked its compression capacity to be only 1.15.  The absolute safety threshold is at least a 1.25.
The collapse ignites massive public interest as the bridge was positioned to be the country's longest and tallest bridge upon its completion next year.