Japanese Ambassador to Vietnam Mitsuo Sakaba called on Ho Chi Minh City authorities to speed up the progress of Japanese ODA-funded projects to ensure they are completed on schedule and operate well on completion.
 
Speaking at a meeting with city Party Committee Secretary Le Thanh Hai on January 11, Mr. Sakaba expressed concern about the progress of several works, including the East-West Highway, the Water Environment Improvement, and Ben Thanh-Suoi Tien subway projects.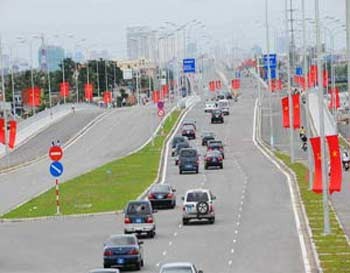 A section of the Japan ODA-funded East-West Highway in District 6, HCMC, which opened to traffic last September (Photo: Tuoi Tre)
"These projects are behind schedule," the envoy said, calling on the parties concerned to work together closely and regularly to eliminate obstacles, especially procedural and financial.
The main cause for their tardy progress is the huge increase in the prices of construction materials and the dong's depreciation against the yen, which affected the payment to contractors, Mr. Hai explained.
"The city authorities and the Party Committee are anxious about the delays, since the projects are closely associated with the city's social and economic development and people's lives," he said.
 
He wanted the Japanese International Cooperation Agency (JICA) and city authorities to work with the Ministry of Finance to remove the impediments in payments to contractors.
Mr. Sakaba said his Government is considering an additional ODA grant for the East-West Highway and Water Environment Improvement project which covers the Tau Hu, Ben Nghe, Doi, and Te canals.
Many Japanese entrepreneurs and investors are eager to resume investment in Vietnam after a hiatus caused by the global recession, Mr. Sakaba told People's Committee chairman Le Hoang Quan in a meeting the same day.
Mr. Quan briefed the ambassador on the spending of Japanese ODA, saying the water environment project has got all the funds it needs.
This project has entered its second phase and a wastewater treatment plant that was built late last year is operating well, processing 170,000 cubic meters daily, 30,000 cubic meters higher than targeted.
As for the East-West Highway, work is now under way in the eastern part, Mr. Hai said.
The first section of the Thu Thiem Tunnel beneath the Saigon River would be put in place on March 7 and the last one in August, he said.
He asked the ambassador for more ODA for the East-West Highway and phase II of the Water Environment Improvement project.
He also urged Japanese contractors to complete the works on schedule and ensure quality.