TOKYO (AFP) – Japanese Crown Prince Naruhito will make a week-long visit to Vietnam next month to promote bilateral ties while his sick wife stays at home, officials said Tuesday.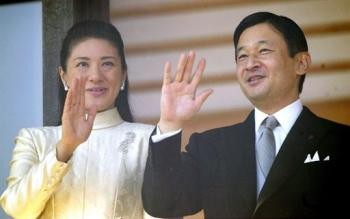 Japanese Crown Prince Naruhito and Crown Princess Masako (Photo: AFP)
The prince will leave Tokyo on February 9 for Ha Noi and return on February 15, the imperial household agency said.
His first trip to Vietnam marks the 35th anniversary of the establishment of diplomatic relations between the two countries.
During his stay the prince will make a courtesy call on Vietnamese President Nguyen Minh Triet in the capital and visit the ancient city of Hue in central Vietnam.
He will also go to Ho Chi Minh City in the south, where he will take a direct look at the Mekong Delta. The prince, who will turn 49 next month, has been studying the history of water transport.
Crown Princess Masako, who has skipped most public duties since late 2003, will not accompany the prince.
The former career woman fell sick as she struggled to adjust to the tradition-bound palace life under pressure to produce a male heir.
The prince and princess decided against the trip by Masako after consulting her doctor, a spokesman of the imperial agency said.