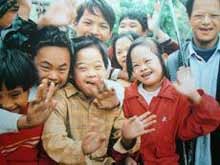 Children affected by Agent Orange at the Friendship Village, Hanoi.
A film about Vietnamese Agent Orange victims, produced by a Japanese female journalist, has been handed over to Viet Nam, announced the Vietnam Association for Victims of Agent Orange/Dioxin on August 5.
The film producer, Mrs. Masako Sakara, wished her film to be aired in Viet Nam on the occasion of the Vietnamese AO Victims' Day on August 10.
The 70-minute film, titled Agent Orange: a personal requiem, is "a depiction of the strength of love against enormous adversity", according to Mrs. Masako Sakara.
"Two years ago, Greg Davis, my husband who had been living with me more than 30 years died at the age of 54. The cause was liver cancer, suspected to be brought on by his exposure to the defoliant Agent Orange while he served in U.S. army in Viet Nam," she expressed.
The Japanese journalist also said: "To deal with my sadness and loneliness, I started my personal journey to find out about Agent Orange, which was sprayed more than 30 years ago. I knew I needed to return to Viet Nam."
"I found the victims everywhere, so immediate and present. Children who were not even born then are suffering from all kinds of deformities and illnesses. In spite of poverty and all difficulties, love, care, and warmth were found everywhere. Meeting the victims and their families helped me heal."
Over the past two year, the Vietnam Association for Victims of Agent Orange/Dioxin has received nearly VND9 billion of donation from various organizations and individuals, said Mr. Nguyen Trong Nhan, Vice President of the association.