Two ships of Japan Maritime Self-Defence Force (JMSDF), Bungo and Takashima carrying 180 officers and sailors are led by Colonel Ikubo Seiji of the Japanese Navy's Minesweeper Division III.

During the stay in Da Nang, the Captains of the ships and the delegation team will meet leaders of the People's Committee of Da Nang City and the high commands of Military Zone 5 and Naval Zone 3 as well as the municipal famous destinations.
The visit is part of the Japan's Free and Open Indo-Pacific Strategy, aiming at enhancing the existing bilateral relations between the naval forces of the two countries and sharing experiences in minesweeping activities.
The large-sized boat JS Bungo which has a load capacity of approximately 5,000 tons is 141 meters long and 22 meters wide. JS Takashima having 570-ton loading capacity is a small-sized vessel is 57 meters long and 9.8 meters wide
Chief of Staff of the Japanese Maritime Self Defence Force (MSDF) Admiral Yamamura Hiroshi who is on a visit to Vietnam is expected to attend in the welcome ceremony for the two minesweepers
Da Nang is the final which is among the list of 7 destinations including the Philippines, Bangladesh, Maldives, Bahrain, India and Malaysia that the crew visited.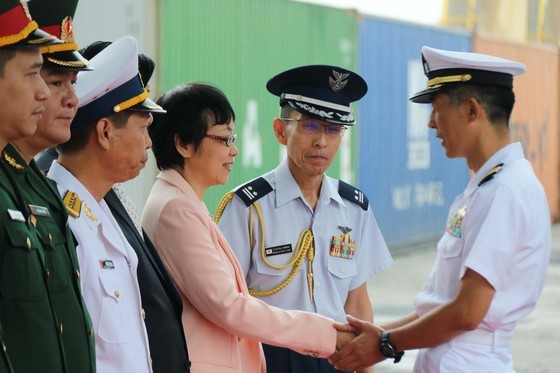 At the welcome ceremony for the two minesweepers