President Nguyen Minh Triet welcomed Kato Susumu, chief executive officer of the Sumitomo group and chairman of the Vietnam-Japan economic committee in Ha Noi on Tuesday.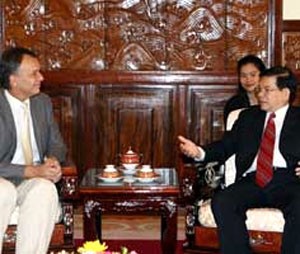 President Nguyen MinhTriet (R) met Mr Evgeny Protopopov on November 11 in Ha Noi.
Japanese groups and enterprises have played an important role in the development of Vietnam's economy, he told his guest.
Vietnam hopes that Japanese companies would invest more in its transport infrastructure, especially in roads, the North-South railway, and metros in Ha Noi and HCMC, he added.
Vietnam is an important business destination for his company, Mr. Susumu said.
Sumitomo plans to build a second industrial zone in Viet Nam, following the success of the Thang Long IZ in Ha Noi.
The group is interested in large infrastructure projects and plans to participate in them, Mr. Susumu added.
The same day, President Triet also met Evgeny Protopopov, chairman of Russian jewelry firm Etalon-Jenavi.
Hailing the cooperation between Etalon-Jenavi and Saigon Jewelry Holding Company, he hoped Etalon-Jenavi Company's presence would bring other Russian investors to Vietnam.
The Etalon-Jenavi company is planning to build an IZ in the southern region for Russian enterprises, Mr Protopopov said, revealing many Russian investors plan to come to Viet Nam.
His firm is also planning to establish a Russian cultural center in Ho Chi Minh City together with the Russian Faculty at the HCMC University of Education, he said.
A science and technology and cultural center would also be established in the city along with Binh Duong University's Vietnam-Russian Friendship Center, he added.