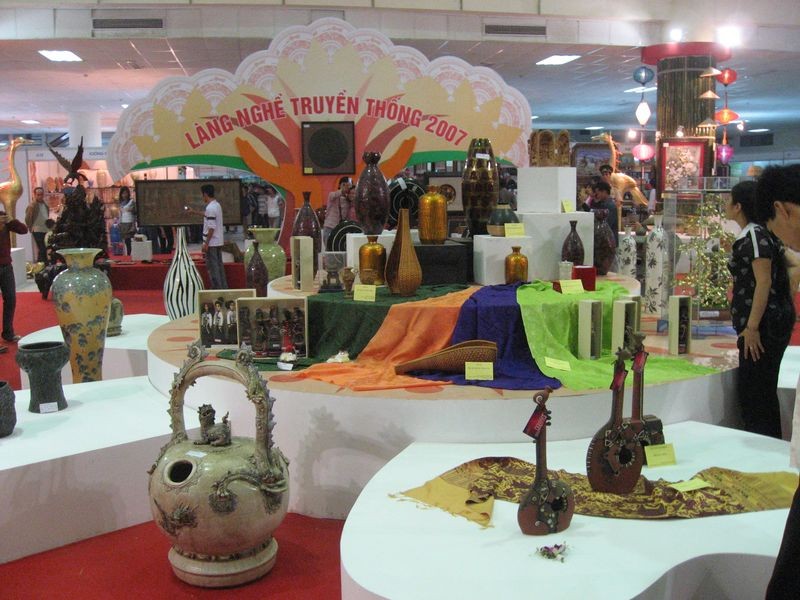 Some products displayed at a traditional handicraft village exhibition in 2007
A Japanese social model "that encourages rural people to utilize local resources and the power of the community to preserve traditional handicrafts" was discussed at a seminar held in Hanoi September 15.
"One Village One Product," jointly hosted by the Ministry of Agriculture and Rural Development (MARD) and the Japan International Cooperation Agency (JICA), is also the name of a successful Japanese model that started in Oita Prefecture before expanding nationwide.
It has since been adopted by various countries in Asia and Africa.
Deputy Minister Ho Xuan Hung said drawing up a program to develop craft villages would stimulate rural employment and help change the country's economic structure by increasing the contribution of services and reducing that of agriculture.
The seminar was held under the aegis of a three-year project on artisan craft promotion for rural development, supported by JICA, which began in December 2008.
The project seeks to establish a comprehensive model for rural industrial development by developing good quality and competitive products utilizing local resources.
The seminar was attended by officials from MARD, provincial administrations and departments of Agriculture and Rural Development, other relevant agencies, and Japanese experts, as well as the key-note speaker Dr. Morihiko Hiramatsu, the founder of the movement.