The Japanese Royal Family supports the development of relations between Japan and Viet Nam, Emperor Akihito told Party General Secretary Nguyen Phu Trong during their meeting in Tokyo yesterday.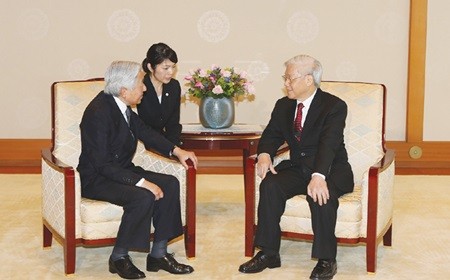 Party General Secretary Nguyen Phu Trong (right) meets Emperor Akihito yesterday in Tokyo. (Photo: VNA/VNS)
The Emperor welcomed the Vietnamese Party chief's official visit to Japan as holding significant meaning in enhancing the friendship and affiliation between the two countries.
He wished Viet Nam continued success in national construction and prosperity.
Emperor Akihito and General Secretary Trong were both delighted at the pragmatic and sound co-operation between Viet Nam and Japan over recent years.
Trong expressed his pleasure to revisit Japan and witness the Japanese government and people's endeavours in national recovery and reconstruction, contributing to peace, co-operation and development in the region and around the globe.
He valued the sentiment of the Japanese Emperor and Royal Family for Viet Nam and the friendship and co-operation between the two countries, and affirmed the Vietnamese Party and State regard Japan as a leading and long-term partner.
He invited the Emperor and his family members to visit Viet Nam.
The same day, Trong met with Secretary-General of the Liberal Democratic Party of Japan (LDP) Sadakazu Tanigaki, who affirmed the LDP will coordinate with the Communist Party of Viet Nam (CPV) to push the strategic partnership between Viet Nam and Japan forward.
The Vietnamese leader reviewed the outcomes of talks with PM Shinzo Abe and underlined that co-operation between the two parties played a crucial role in creating the foundation for political stability and bilateral rapport.
He extolled the LDP's role in enhancing official development assistance (ODA) co-operation as well as its key role in the Japan-Viet Nam Friendship Parliamentarians Union.
He expressed his hope to further co-operative ties between the two parties via regular delegation and cultural exchanges and increasing collaboration in regional and international issues.
The two sides signed a Memorandum of Understanding on enhancing co-operation between the CPV and LDP, which is expected to help reinforce the long-term, stable and comprehensive bilateral political ties.
On the same day, the Party leader received the president of the New Komeito Party Natsuo Yamaguchi, during which both sides expressed their hopes to bolster co-operative ties between the two parties.
President Yamaguchi said regular delegation exchanges between the two parties have contributed to increasing mutual understanding.
Trong expressed his wish for the development of two parties' ties in the near future, contributing to boosting the extensive strategic partnership.
Invest more
Party leader Nguyen Phu Trong said he welcomes Japanese businesses to expand their investments in Viet Nam and improve their quality and efficiency.
At a reception for President of the Japan External Trade Organisation (JETRO) Ishige Hiroyuki in Tokyo yesterday, the Party leader called on Japanese investors to increase co-operation with Vietnamese partners in industrial, agricultural and hi-tech sectors.
He also proposed the Japanese share technology and expertise in economic management.
The Party chief noted that the Vietnamese market will expand by joining the over 600-million-strong population of the ASEAN Economic Community by the end of this year.
Room remains for the two countries to broaden their relations, he said, adding that he hopes JETRO will support Japanese enterprises in boosting their investments in Viet Nam.
He hailed JETRO for playing an active role in promoting trade and investment co-operation between the two countries and particularly for supporting the implementation of official development assistance (ODA) projects in Viet Nam along with improving the local business climate and forging business connections.
Ishige Hiroyuki expressed his delight at the growing rapport between the two countries, especially in the economy, trade and investment, manifested by the increasing number of Japanese investors in Viet Nam.
He cited JETRO's 10 representative offices in ASEAN member states, including two in Viet Nam. Up to 70 per cent of active Japanese businesses in Viet Nam said they want to expand their business in the country and focus on manufacturing activities, he said.
He added that his organisation has promoted Viet Nam's potential as well as its culture and people to Japanese friends.
While receiving the President of the International Friendship Exchange Council (FEC) Ken Matsuzawa, General Secretary Trong said he hopes the council will arrange more activities to boost people-to-people exchanges and embrace links between businesses and localities.
Matsuzawa pledged to spare no efforts to propel the Viet Nam-Japan relations forward for the sake of the two peoples.
Also yesterday, the Party leader held separate meetings with several Japanese corporate executives in Tokyo.
Kuniharu Nakamura, President of the 400-year-old Sumitomo Corporation – which invests in industrial parks Thang Long I in Ha Noi, Thang Long II in Hung Yen and Thang Long III in Vinh Phuc, said the conglomerate has been working across diverse areas in Viet Nam and is likely to scale up its operations there.
The Party chief wished the corporation would choose Viet Nam as a priority investment destination and pledged to provide all possible support.
President of Mitsubishi Corporation Ken Kobayashi also asked for more assistance for its business in Viet Nam, which has been a part of dozens of projects since 1990 in oil and gas, automobile assembly, steel, plastics, electricity and the construction of industrial parks and airports.
Meeting President and Chief Executive Officer of Taisei Corporation Yamauchi Takashi, the Party leader hailed Taisei's positive impacts on Viet Nam and hoped it would launch more projects for the sake of Viet Nam as well as the two economies.
Later the day, General Secretary Trong met with the embassy staff and Vietnamese nationals in Japan.
Joint statement
In a joint statement issued by Viet Nam and Japan during Party General Secretary Trong's official visit, the two nations said they highly valued the vigorous and substantive growth of their relations, especially since ties were elevated to a strategic partnership in 2009 and an extensive strategic partnership in 2014.
They said the two countries were important partners and shared a number of basic interests, adding that each nation's development would create favourable conditions for the other's growth.
They said Viet Nam continued to regard Japan as a top and long-term partner while Japan attached importance to Viet Nam's position on foreign policy in the Asia-Pacific region.
Japan welcomed Viet Nam's foreign policy of independence, self-reliance, peace, co-operation and development, diversification and multilateralisation of relations, and active international integration. It also valued its role in sustaining peace, stability, co-operation and development in the region and the world.
Both Viet Nam and Japan voiced concerns over recent complicated developments in the East Sea, including island reclamation and large-scale construction, which had increased tensions, undermined trust and threatened regional and global peace and stability.
They said that coastal countries must adhere to international law, including sea-related law, and refrain from unilateral actions that altered the status quo.
They also highlighted the significance of ensuring peace, security, and maritime and aviation safety and freedom and urged relevant parties to not conduct unilateral actions complicating and expanding disputes in the East Sea, resolve all disputes peacefully in accordance with internationally recognised principles – particularly the 1982 UN Convention on the Law of the Sea, seriously implement the Declaration on the Conduct of Parties in the East Sea and work to issue a code of conduct in the waters.
In their statement, Viet Nam and Japan also stressed the importance of maintaining peace and stability on the Korean peninsula; improving the effectiveness, transparency, democracy and representation of the UN; and sustainably tapping marine fishery resources.