If Jetstar Pacific Airlines is found violating safety regulations, its operations would be suspended, Minister of Transport Ho Nghia Dung told the media on the sidelines of the ongoing NA session in Hanoi November 12.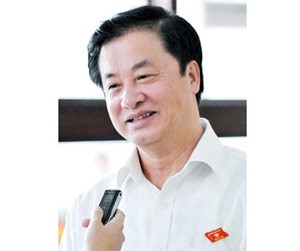 Transport Minister Ho Nghia Dung tells the media November 12 that budget carrier Jetstar Pacific Airlines would have its operations suspended if found to have flouted safety norms (Photo: SGGP)
The budget carrier is being investigated after two former foreign engineers accused it of flouting safety norms.
According to the Law on Complaint and Accusation, a clear accusation in which the denunciator's name is indicated must be scrutinized, Mr Dung said.
So, the Civil Aviation Administration of Vietnam has dispatched a team of inspectors to look into the allegations, he said.
About the nature of the inspection being carried out, he described it as a comprehensive inspection of all technical aspects.
Inspectors did not find of violations of the kind alleged now during previous inspections of the carrier, he said.
Relevant agencies routinely supervise JPA to ensure it complies with national and International Civil Aviation Organization regulations, he said.
If the investigation finds the accusations to be true, meaning the carrier has violated safety regulations, its operations would be suspended, he said.
Asked about JPA's argument that it has to repair aircraft engines outdoors because it does not have a hangar -- thus compromising safety, according to critics -- Mr Dung rejected it, saying not all carriers have their own hangars but they must repair their engines at maintenance centers at home or abroad.
Related article:
Aviation watchdog begins probe as Jetstar Pacific engineers blow whistle