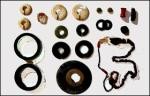 Some kinds of Vietnamese ancient jewelry
An exhibition entitled "Jewelries of Vietnamese Ethnic Women - from Tradition to Modernity" was opened yesterday by Viet Nam Women Museum in Ha Noi and the UNESCO Center for Researching and Preserving Vietnamese Antiques.

The exhibition, seen as the first one to ever show ancient women jewelries, displayed 1,000 unique and varied pieces of jewelries from the early days of Phung Hung, Dong Son culture until now.

On the occasion of International Women's Day March 8, the museum, Ha Noi Industrial Fine Art University and Ha Noi Open University opened an exhibition of jewelry designs of students from the two universities. These designs were appreciated in exams at the universities and awarded with some prizes.