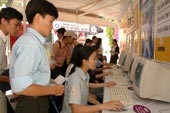 Young people find information over the Internet in the kiosk of Nust Institute for Information Technology (NIIT) (Source: NLD)
The 2006 job fair entitled "Young People and Career" with the participation of 46 universities, colleges and vocational schools has attracted many students who come to find work information.
Twenty companies also provided job offers to 5,000 laborers for such positions as engineers, accountants, office workers, technicians, of which 1,000 job-seekers were recruited after being interviewed.

The organizing committee gave 50 scholarships (VND100 million in total) to underprivileged excellent pupils of vocational schools.
After four days, the fair, held by Ho Chi Minh City Department of Education and Training, HCMC Labor Union and Nguoi Lao Dong (the Laborer) Newspaper, concluded on March 12.