As of May this year, the Job Transaction Center in Ho Chi Minh City has conducted five job fairs for potential employees and employers to exchange information. Surprisingly, these exchanges are no longer considered a suitable place to look for employment, as most participating companies use the forum to advertise their services, and do not actually seek to hire new employees.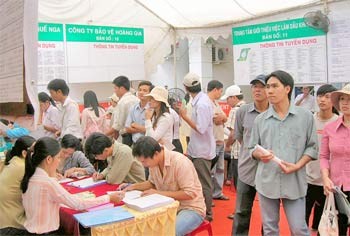 Laborers get the information about job requirements and duties at the Job Transaction Center in Ho Chi Minh City
In an attempt to improve services, the JTC once organized a trading session geared specifically towards the poor and disabled in the suburbs of district 2. 
 
Unfortunately, the number of applicants to benefit from this type activity is decreasing.
According to Mr. Tran Hieu Liem, director of the HCMC Job Center, there is no practical standard for the Job Transaction Center's activities. They should have learned from previous sessions' failings, and improved their services linking potential laborers to companies—but, they haven't. 
 
When coming to the center, applicants want to be directly interviewed by companies' representatives in order to get specific information about job requirements and duties. They are disappointed to find that interviews are generally conducted by the Job Center's own staff, and no representative of the prospective company is present. 
 
During the fifth session which ended in September, the organization board informed the public that 50 companies looking for more than 12,000 employees would be participating. But the final count showed only 34 companies, most of which sent applications forms, but no representatives. 
 
Several companies that took part in this last job fair considered it an advertising opportunity, and paid no heed to employees. They delivered application forms, but had no vacancies.
 
"I twice handed in the application forms to two companies, but received no reply. When I phoned, they asked me to wait because there were no vacancies," complained Mr. Le Nhat Long, a laborer in Tan Binh District.
 
In short, the Job Transaction Center should introduce jobs to laborers. Instead, it has become a place for company advertising and, in failing to meet the needs of the working public, is attracting fewer and fewer laborers.