Tran The Dung, a correspondent for Nguoi Lao Dong newspaper, was assaulted January 6 while gathering information about smuggling in Lang Son Province in the northern mountains during the lunar year-end.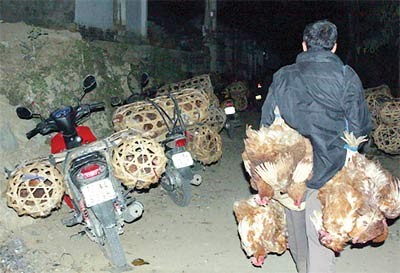 A man smuggles chicken in from China to Dong Dang town in Lang Son Province. This photo was taken by Nguoi Lao Dong reporter Tran The Dung before he was assaulted by some unknown people (Photo: SGGP)
That evening Dung took pictures of motorbikes that were illegally carrying chickens over the border from China into Vietnam about 1 kilometer from the Huu Nghi border gate in Cao Loc District.

He later went to a teashop in Keo Kham village to speak to local residents when a young man came in and told him that a xe om (motorbike-taxi) driver was looking for him outside.

When he went out, the young man and seven or eight others, mostly porters, pounced on him and beat him up.

He managed to escape and ran to a nearby national highway where a car stopped and picked him up. The driver was the same young man.

But, surprisingly, he drove straight to the police station in Dong Dang town, declared that he saw Dung being beaten on the street, and left.

The police took him to hospital where doctors said he suffered trauma in many parts of the body.

The same morning two reporters of Tien Phong newspaper were assaulted in Ha Tinh Province.

Two of the alleged culprits were taken in the next day to record their statements.