The Ministry of Justice has asked the Ministry of Health to revoke a recent stipulation on minimum height and weight for getting a driver's license.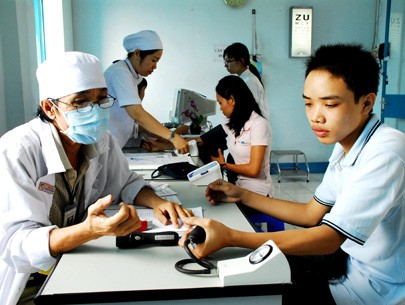 A resident has their health tested for driving licence (Photo:TTO)
The MoH had said recently that to get an A1 motorbike license, a person should be at least than 40 kilograms and 145 centimeters tall, regardless of their age.
To drive private cars of up to nine seats, a person will have to be over 150 centimeters and have arms and legs that do not differ by more than three centimeters in length.
Other requirements relate to mental health, heart condition, and vision.
But deputy director of the MoH's Treatment Department, Tran Quy Tuong, said his ministry has not received any communication from the MoJ over the issue.
Asked whether his ministry would withdraw or defer the new regulations, he said a meeting would be held with the Viet Nam Road Administration, Medical Assessment and Ministry of Labor, Invalids and Social Affairs to discuss them.
Mr. Tuong also said regulations unacceptable to the public would be reconsidered.
Le Hong Son, head of an MoJ agency that vets all legal documents issued in the country, said health regulations are not within the MoH's purview.
Besides, he said, the new regulations discriminate against disadvantaged people.