Shortly after Parliament voted to adopt amendments to the Labor Law on afternoon of June 18, Truong Thi Mai, chairwoman of the National Assembly Committee for Social Affairs, spoke with reporters about some of the most important contents of the Labor Law.
Truong Thi Mai said that one of the key contents of the newly amended Labor Law dealt with minimum wages for workers. Accordingly, workers' wages are determined on the basis of agreement between the employer and employee as per the state law.
The minimum wage is determined on the basis of four criteria that include economic; social conditions; and consumer prices. The Labor Law provides for collective bargaining on labor contracts, but the minimum wage in collective labor agreements must be higher than the minimum wage announced by the Government. In fact, the textile industry has already realized this.
Chairwoman Mai added, "According to research institutes, the current minimum wages from VND1.4 - 2 million a month is not enough to make ends meet".
Thus the NA will outline a roadmap until 2015 to achieve the goal of raising minimum wages.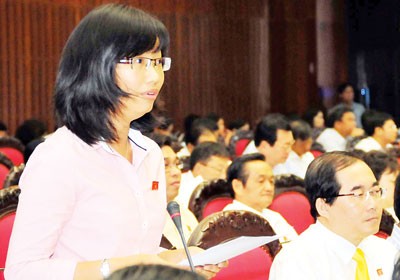 Deputy Tran Dieu Thuy (HCMC) speaks at the NA session
According to Truong Thi Mai, there is a huge gap between the new minimum wage and the minimum living standards for workers. The minimum wage of VND1.5 million per month (US$50), only accounts for around 55-60 percent of minimum living standard.
She stated that low wages and poor working conditions have raised continuous concerns among workers. This has resulted in worker strikes in many companies.
Truong Thi Mai said, "The adjustment in minimum wages in 2015 will meet living requirements that will satisfy the minimum standards of living".
A survey conducted by the Institute of Workers and Trade Unions concluded that the average salaries of workers in 90 private companies in 10 cities and provinces, including Hanoi and HCMC was not enough to make ends meet.
The survey stated that 33.7 percent of the workers have to work extra hours to earn enough money to cover family expenses. They either work extra hours for their companies or part-time to earn extra money.
Some other important changes in the Labor law deal with maternity leave for female workers. Accordingly, all female employees are permitted to a six month leave before or after childbirth.
Other figures too show the poor plight of workers. More than 60 percent do not have the time or money to go to movies, concerts or travel, and 17.5 percent do not have enough money to cover medical expenses.
Therefore, workers have to find their own way to save time for extra working hours and save money for better living.
Workers have the right to quit jobs that do not satisfy their basic needs and work for other companies that offer better wages and working conditions. Forty-four percent of workers, when asked, were not happy with their current salary, and 13.6 percent wanted their working conditions to improve.