The Police Department in the central province of Khanh Hoa has decided to issue a penalty of VND82 million (US$4,000) to seven Chinese doing illegal fish farming in Cam Ranh Bay.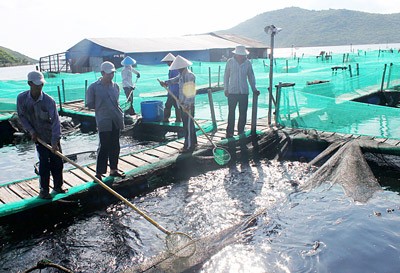 Illegal Chinese fish breeders in Khanh Hoa Province (Photo: SGGP)
Five of them received a penalty of VND15 million (US$714) each and two others of VND3.5 million each. Five of these Chinese have since returned to their country.
Ho Thanh Tung, head of the reconnaissance division of the provincial Border Army Headquarter, said they had caught four Chinese illegally farming in the waters of Nha Trang City. The four are scheduled to be summoned for questioning today, June 6.
Besides, the border army also uncovered two Vietnamese companies illegally employing Chinese workers, with none having working licences. One business is located in Ninh Hoa Town and the other in Van Ninh District.
On Tuesday morning, the People's Committee of Cam Ranh City continued to deliberate on the responsibility of relevant individuals and departments in allowing such illegal practices in Cam Ranh Bay.
Among those responsible is the City's Economic Department, which acts as a counsellor for authorised organisations on management of Chinese workers in the locality. In 2009, the department had penalised these Chinese but then let them continue to operate their fish farms.
Related article:
Cam Ranh City uncovers Chinese running illegal fish farms