The Management Board of Van Phong Economic Zone (EZ) in the central province of Khanh Hoa on June 17 informed that they will revoke license of the Van Phong International Transit Port project, because of slow implementation even after three years of take off.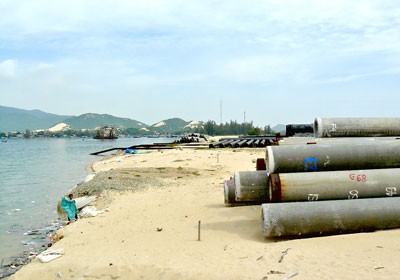 Khanh Hoa Province revokes license of the long delayed Van Phong International Transit Port (Photo: SGGP)
According to Hoang Dinh Phi, deputy head of Van Phong EZ, they have already sent an official notice to Vietnam National Shipping Lines (Vinalines), investor of the project.
The license withdrawal is because of the fact that the investor has not as yet implemented the project and put its progress on track despite promises.
The Management Board of Van Phong Economic Zone will issue an official withdrawal statement after Vinalines clears all pending issues related to the project.
In 2007, Van Phong International Transit Port--the main feature of Van Phong Economic Zone, was approved at a cost of VND3,126 billion (US$149.18 million), which was later increased to VND6,177 billion by the investor, two years later.
The project broke ground on October 2009 and was scheduled to complete by 2020 to receive 18,000 TEU container vessels. The four phase project has run aground since, due to factors such as design change and capital shortage.
The first phase was expected to complete by October 2011. However, the investor could complete only less than 10 percent of the work by that time.
Now, Khanh Hoa Province is seeking a new foreign investor for the Van Phong Transit Port. However, so far only the Rotterdam Group from the Netherlands has come forward to survey the site, but has not responded their willingness for the last one year.
The Government approved the 150,000 hectare Van Phong Economic Zone in 2008.
According to Hoang Dinh Phi, the EZ now has 126 projects with total registered capital of US$12.5 billion, with only $584 million being spent so far.
The EZ has attracted many large-scale projects like the $4.5 billion Nam Van Phong Oil Refinery, the $3.8 billion Van Phong Electricity Center, and the $3.7 billion Tu Bong New Urban Area and High-class Yacht Area.
These projects are moving far too slowly compared to the initial plan.