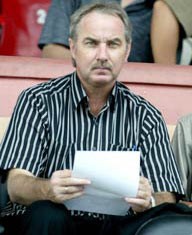 Viet Nam coach Alfred Riedl
Many Vietnamese football fans have offered to donate a kidney to the country's ailing national team coach Alfred Riedl. The Austrian man has been suffering from kidney failure for years.

Two weeks ago, dozens of Vietnamese fans answered a call by a local newspaper to come to Riedl's rescue after doctors told him that he urgently needed a transplant.

Many fans have rung him, or sent mails and emails to him offering a kidney. They are all willing to do though not all know medical requirements for the donor, including blood type and health conditions. No matter they know or not, they all want to do something to give him a helping hand and help their beloved national team.

A fact from the story is that Vietnamese fans are wholehearted supporters. 

Reuters wrote on August 22 that dozens of Vietnamese fans have offered to donate a kidney to the coach to prevent him from losing his job. Bankers, truck drivers and even Buddhist monks have signed up to become donors to ensure he is fit to lead the Vietnamese team at next year's Asian Cup.

Reuters wrote that 32-year-old Buddhist monk Thich Dong Phap from the northern province of Phu Tho wished to donate a kidney so that he and Riedl would have good karma.

Reuters also reported, "Vietnamese soccer chiefs have hinted that they may replace the former Austrian coach if his condition worsens and he is unable to return to coaching the squad next month."

Vietnamese fans' wholehearted support has moved the coach. He told Reuters by telephone: "The donors are all big fans and they're doing this for the good of Vietnamese football. They want to help me so I can be fit to help Vietnam win something. Their response was quite unexpected."

The story about Riedl's kidney and Vietnamese fans' hearts for him is a nice story for international fans. Reuters, in its photo library, run six pictures of him during training sessions, games and at a table for breakfast in Ha Noi, with a glass of beer.