Residents of Ha Tien Town in the Mekong delta province of Kien Giang and the Internet community in Vietnam are abuzz with news of a wedding that took place over a week ago between two gay men.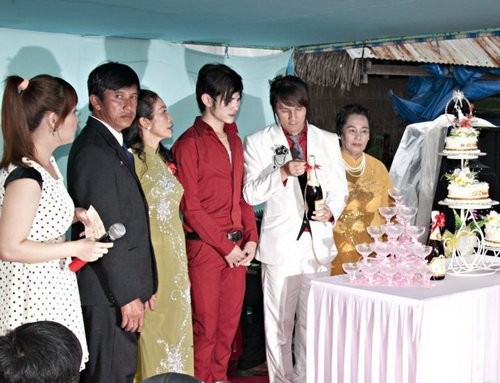 The wedding of the two gay men took place in the presence of their family members
The wedding was organised over a week ago with consent of the parents of the male bride and male bridegroom, in the presence of hundreds of friends of the couple and their families, on May 16 at Phuong Thanh Street in Binh San Ward of Ha Tien Town.
Curious onlookers gathered outside the wedding party venue of the male bridegroom Nguyen Hoang Bao Quoc and male bride Truong Van Hen; with some in the crowd even attempting to stop the unusual wedding from going through, but local authorities managed to break up the protesters.
According to relatives of the male bride and male bridegroom, the couple met each other while working in Ho Chi Minh City, where they made their plans to wed and later sort consent of their family members.

Soon after the "boisterous wedding party" in Ha Tien Town, the married couple left for HCMC.
Later many websites released pictures of the strange wedding and many people raised objection to such a wedding, while some sympathized with the families of the two homosexual men.
Nonetheless, the law in Vietnam does not accept same sex marriage, as was the case in February this year when a wedding between two women in the Mekong delta province of Ca Mau was disrupted by officials of the local government.