The Kim Lien tunnel is still liable to flooding if forecast heavy rains arrive in the coming days, said the project's investor, Hanoi Managing Board of Major Urban Development Project, recently.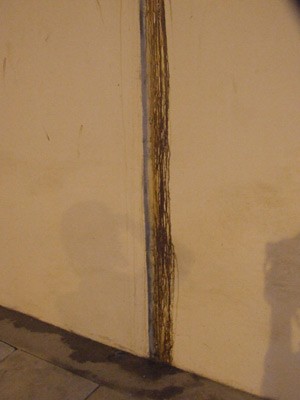 A crack leaks murky water in Hanoi's Kim Lien Tunnel.
Currently, two pumps out of four are ready if Kim Lien tunnel is flooded.
According to the investor, they will complete the tunnel's drainage system with four pumps, including one standby pump to fulfill operability.
If the draining system is complete, it could keep the tunnel from flooding during rains of up to 175 millimeters per hour, Nguyen Sy Bao, director of the board said.
However, the Dao Duy Anh tunnel section will still be able to be flooded, as its drainage system is not yet complete, which is expected to be finished in the next two months.
According to the board, if heavy rain occurs, it will coordinate with the contractor, the Hanoi Drainage Company and traffic polices to minimize congestion in the event the tunnel is closed.
Meanwhile, local residents are worried about crack's appearing in Kim Lien Tunnel.
Mr. Bao said the contractor was under a two-year guarantee contract to fix any problems with the tunnel for free. He said people should not be worried about the issue.
As of now, the tunnel has four cracks leaking water, with dirty water leaking through one of them. It is about two meters long and ten centimeters wide.
The board confirmed the tunnel has sunk around one to two millimeters. The contractor suggested measures to solve the issue and will fix the cracks on August 10.
The project's consultant, Japan Bridge and Structure Institute, confirmed that the problem would not affect the operation of the tunnel and that the cracks were probably caused when the tunnel sank under the weight of traffic.
Mr. Bao said the cracks have to be fixed before the project is officially handed over to the authorities.
Kim Lien tunnel connects Dai Co Viet and Dao Duy Anh streets beneath the junction of Dai Co Viet and Kim Lien streets in Hanoi, which opened to traffic June 16.
On the first day, the tunnel was flooded for two hours after the inauguration ceremony. The issue has caused experts and the public to question the structure's quality. Investors said the issue was not a big problem.
Motorbikes were caught by up to 40 centimeters of water soon after the tunnel opened at 7am. By 10am, only buses could pass the deepest 20 meter stretch in the middle of the tunnel.
The tunnel's builder eventually blocked the entrance for an hour while the water was drained.
The project's investor, meanwhile, claimed the flooding was expected given that the main pumping system had not yet been installed.
The investor then installed four pumps to cope with water in the tunnel during heavy rains.