The remains of King Le Du Tong (1680-1731) will be buried in Bai Trach Village, Tho Xuan District of Thanh Hoa Province during a royal ceremony on January 25, the Ministry of Culture, Sports and Tourism announced January 21.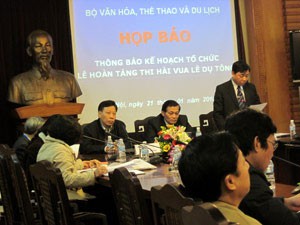 The Ministry of Culture, Sport and Tourism annouced that the remains of King Le Du Tong (1680-1731) will be buried in Thanh Hoa Province on January 25.
The funeral will be held at the Vietnam History Museum in Hanoi at 1 am on January 25 and presided over by the People's Committee of Thanh Hoa Province, the Vietnam Buddhist Sangha Central Committee, and the Le royal family.
The King's remains will be brought to Thanh Hoa for a special ceremony at 11 am during which his coffin will be lowered into the ground.
Before arriving at the cemetery, the funeral procession will stop at the Lam Kinh historical relic, about 50 km west of Thanh Hoa city. The site is a sacred area of eminent royal tombs of former Le Kings.
King Le Du Tong was the 22nd King of the Le Dynasty. He was enthroned in 1705 and presided over a period of peace and prosperity for 24 years before passing away at age 52.
According to the Le royal family annals, the King was buried in Bo Ve Village, Dong Son District (now Thanh Hoa Town).
Royal mantle of King Le Du Tong is found in 1958
However, Kham dinh viet su thong giam cuong muc (General History of Vietnam by Imperial Order of the Nguyen Dynasty) said that he was buried at the Co Do royal tomb in Dong Son and later moved to the Kim Thach tomb in Loi Duong District (now covering Tho Xuan and Thuong Xuan districts).

Then in February 1958, a farmer in Bai Trach Hamlet, Tho Xuan District found what was believed to be the King's remains while digging in his garden. The coffin was moved to the Vietnam History Museum in 1964 where it remained for the next several decades.

In 1996, the Le royal family asked the Ministry of Culture and Information (now the Ministry of Culture, Sports and Tourism) to bring the King's body back home to Thanh Hoa.

After making a second request in October 2006, the President and Prime Minister gave approval to the Le family to hold a royal burial on January 25, 2010.

After nearly 46 years of being housed at the Vietnam History Museum in the capital, King Le Du Tong's body will be brought home for burial on an area of around 5,000 square meters.