The People's Committee in the central highland province of Kon Tum has instructed relevant departments and organs to investigate the cause of the dam breach which killed one person at the Dak Mek 3 Hydropower Plant on November 22.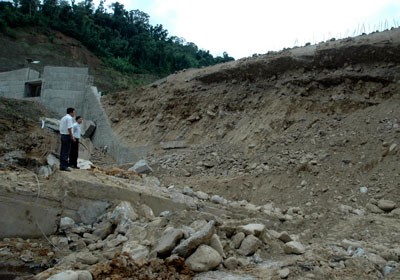 The breached area at the Dak Mek 3 Hydropower Plant dam (Photo: SGGP)
The provincial Departments of Industry and Trade; Construction; Labor, Invalid and Social Affairs; Police Department and Dak Glei District authorities were ordered to reach the scene of accident to investigate the cause of the dam breach and report their investigation results to the provincial People's Committee by November 28.
On November 22, while transporting stones to the construction site of Dak Mek 3 Hydropower Plant, a truck rammed against the concrete wall of the dam.
The collision caused 60 meters of the 80 meter stretch of the dam to burst, killing the driver, 28-year-old Nguyen Viet Hung from Quang Nam Province.
Construction of the 7.5MW Dak Mek 3 Hydropower Plant started in March 2009 at a cost of VND200 billion (US$9.6 million) and is scheduled to be complete by March next year.
In related news, the People's Committee of Quang Nam Province has instructed the People's Committee in Bac Tra My District to hand over 1,319 hectares of farmland to households who are temporarily camped there for the construction of the Song Tranh 2 Hydropower Plant in Tra Bui Commune.
This move will prevent residents from destroying forest area to make room for agriculture due to lack of farmland.