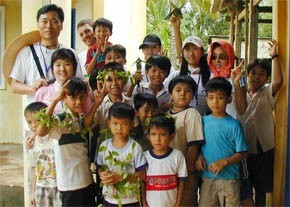 Vietnamese children are taken care in a Korean's charitable activity in Viet Nam. (Photo:T.K)
Many activities in the "Love Request", a charitable program for children in Ho Chi Minh City, were recently launched by the Korean Broadcasting System (KBS), in corporation with the LG Electronics Company and the Korean Fund for Social Activities.
The delegation sponsored cosmetic surgery for 15 children with facial malformations at the Children's Hospital 2 in Ho Chi Minh City. Besides, they sponsored treatments for 25 children suffering cataracts at the Viet Nam– Republic of Korea (RoK) Hospital.
On April 28, the delegation visited and presented medicines for children at the RoK Kindergarten in Tan Binh District.
With help from Samsung Company, the delegation built wells to provide clean water for people in two villages outside the city and presented 40 fans to the locals.
On the occasion, Korean Fund for Social Activities Chairman Kim Seok San presented 300 scholarships to poor students.
The program will be broadcasted in the "Love Request" television program on the RoK's Day for Children May 6, 2006.