LG Electronics Vietnam paid for eye surgeries for 70 poor Ha Noi residents suffering from cataracts, as well as for examinations and drugs for 500 patients suffering from eye-related diseases.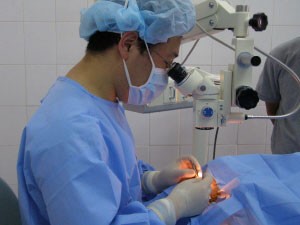 Doctors conduct an eye surgery in the Soc Son District of Ha Noi on March 17
The event cost US$20,000 and began Monday in the Soc Son District of Ha Noi and in neighboring areas.

The event is scheduled to last until March 19 and is organized by Soc Son General Hospital. It is part of the charity program Vision Care Service, which is based in Seoul, the Republic of Korea.

In 2004, the Ministry of Education and Training presented a medal "For the Cause of Education" to Cho Dae-ki, director general of LGE Vietnam, for his company's participation in various social and educational activities, including its sponsorship of the television show "The Road to Olympia Peak", a quiz show in which the contestants are high school students.