President Lee Myung-bak of the Republic of Korea (RoK) arrived in Hanoi on October 20 to begin a three-day official visit to Vietnam.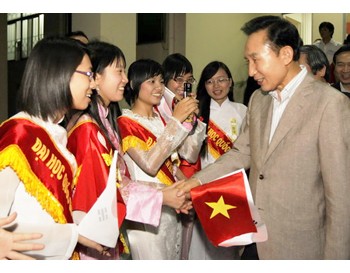 RoK President Lee Myung-bak meets Vietnamese students in Hanoi where he arrived for a three-day visit on October 20 (Photo: Tuoi Tre)
It is his first visit to the country since assuming office in February last year and the fourth visit by an RoK president.
On the opening day, President Lee met students from the Hanoi National University and told them he has special sentiments for Vietnam.
He attaches much importance to Korea's relationship with Vietnam and has confidence in the country's future, he said.
He encouraged the students to take on challenges to make use of opportunities.
On October 21 he will meet senior Party and State leaders like Party General Secretary Nong Duc Manh, President Nguyen Minh Triet, and Prime Minister Nguyen Tan Dung.
The two countries are expected to proclaim that they have raised the bilateral relationship to a strategic partnership.
Mr. Lee is accompanied by Minister of Foreign Affairs and Trade Yu Myung-hwan, Knowledge Economy Minister Choi Kyung-hwan, Labour Minister Yim Tae-hee, the chairman of the Broadcasting and Communications Commission, Choi See-joong, Trade Minister Kim Jong-hoon, and the ambassador to Vietnam, Im Hong-jae.
Korea is Vietnam's leading commercial partner, with bilateral trade since Vietnam's WTO membership in 2007 growing at 42.5 percent annually.
Last year it was worth US$10 billion while Korea was the fourth biggest investor in Vietnam with nearly $20 billion.
Korea provided ODA aid worth $471.4 million from 1993 to 2008.
It has also signed a framework agreement to provide Vietnam a loan of $1 billion from its Economic Development Cooperation Fund in 2008 –11, in the process becoming the second biggest bilateral donor after Japan.
On this occation, an exhibition of photographs reflecting the friendship between Vietnam and Korea opened in Hanoi on October 19 to mark Korea Week that began the previous day.
Themed "Learning from patterns, light, and land," the exhibition is divided into three parts. Patterns, where traditional patterns are displayed; Light, reflecting the diversity of light in daily life; and Mild light exhibiting works by Vietnamese and Korean students.
The exhibition, on at the Vietnam Museum of Revolution, will be on show until October 24.