Republic of Korea (RoK) Veteran Association who used to take part in the Viet Nam war donated to the Ho Chi Minh City Association for Victims of Agent Orange/Dioxin (VAVA) 100 wheelchairs worth over VND 300 million on May 29, 2006.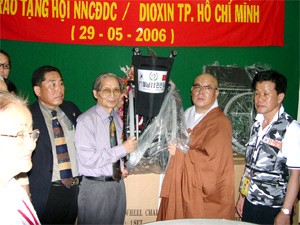 The chief leader of the RoK ( 2nd, R) gives the wheelchair to the representative of HCMC VAVA (Photo:N.Truoc)
The Ho Chi Minh City AO association informed the Korean veterans that there are over 2,000 AO victims in Ho Chi Minh City and the dioxin after-effect has been passed to the third generation of their family.
Currently, Hoa Binh Village of the Ob-Gyn Tu Du and Thien Phuoc health care unit are taking care of AO victims.

The RoK veteran association promised to assist the construction of one more center where AO victims are raised.

Tomorrow they will give Cu Chi province 20 wheelchairs and VND 30 million.