The Ministry of Health has directed hospitals and healthcare centres in cities and provinces to strengthen monitoring and test samples for the suspected Zika virus.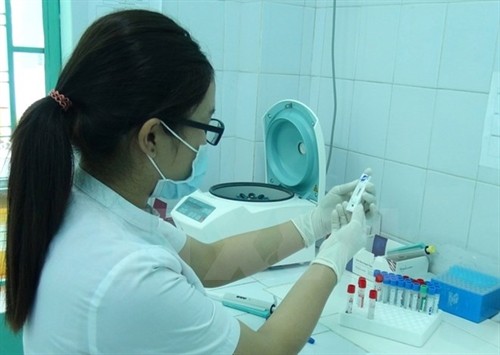 Medical staff check blood samples during testing for the Zika virus. — VNA/VNS Photo Viet Nam News
The order, aimed at early detection to prevent outbreaks and to ensure timely treatment, comes after a South Korean woman tested positive for Zika on her return from Việt Nam, according to the Department of Preventive Medicine.

According to a report of the focal agency implementing the International Health Charter (IHR) of the World Health Organisation for the western-Pacific region, Korea recorded its fourth case of the Zika virus infection on Saturday.

The 25-year-old woman was found to be infected with the Zika virus on her return from Việt Nam on May 1. She was examined at the Catholic University of Korea Incheon St. Mary' Hospital last Wednesday after she complained of mild fever, rash and joint pain.

Test results on Saturday confirmed the woman was infected with the virus.
She is reported to have gotten a rash on April 28 while she was working in HCM City from April 10 to 30, at around the time the city recorded Zika cases in Thạnh Mỹ Lợi Ward, District 2, in early April.
The IHR of Việt Nam has requested South Korea to provide detailed information on where the woman worked, lived and traveled during her stay in Việt Nam.
The health ministry has advised people to continue with measures to prevent mosquito bites.
Those experiencing fever, rash, muscle aches, headaches, pain behind the eyes and conjunctivitis, should visit the nearest health facility for advice, examination, diagnosis and timely treatment.