Less than one month before the Tet (Lunar New Year) holiday, kumquat and peach growers in Hanoi's Nhat Tan and Quang Ba area say they are looking forward to a bumper crop this year.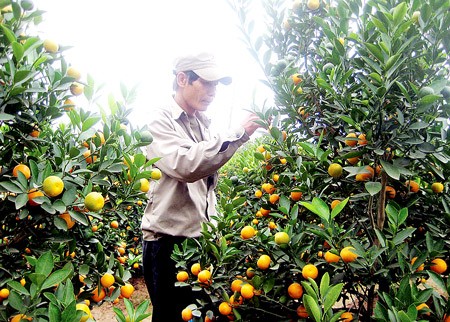 A grower at Quang Ba takes care of kumquat trees for Tet holiday. Farmers are forecasting bumper crops of kumquat and peach trees this year.(Photo: SGGP)
The kumquat fields have started to turn yellow while the red peach blossoms are in bloom - a signal a bumper crop.
Although there was less rain in 2009 than usual, the weather was still good for kumquat and peach blossoms, said Le Van Hong from Quang Ba, Tu Lien Ward.
At present, growers in several of Hanoi's famous villages, including Nhat Tan and Quang Ba, said their peach fields are starting to blossom and are expected to be in full bloom in time for Tet.
Nguyen Bich Tam, who has 30-year's experience in planting peach trees, said that if the weather remains stable with temperatures that are neither too hot nor too cold, growers will indeed see a bumper crop.
Thanks to the good weather, most growers, whose knowledge has been passed down from generation to generation, are 70-80 percent sure of having good peach and kumquat crops this year, Tam said.
At present, wholesalers and early Tet shoppers are visiting the gardens to order trees.
Nguyen Dao Phong, a buyer in Hoan Kiem District, said he has visited peach gardens since the beginning of January to choose a beautiful tree.
Phong said the price of kumquat and peach trees will likely rise higher over the next few days to VND100,000-200,000 (US$6-11) each.
Farmers lament small price increase
Despite the predicted bumper crop, farmers stand to profit only a little this season.
Although expenses for planting such as fertilizer and seeds have increased, the price of ornamental trees at Tet will increase only slightly, by around 10 percent or so, compared to past years.
According to Bich Lan, owner of 300 kumquat trees, despite expectations of a better crop for peach and kumquat trees this year, it is difficult to increase kumquat prices due to the global economic crisis.
Last year, many growers increased prices of kumquats, so they sold just 30-40 percent of the total by December 30 of the Lunar calendar, she said.
At present, the average price of kumquat trees is VND150,000-300,000 each. The best plants fetch VND4-5 million each, said Lan.
Many other growers in Nhat Tan and Quang Ba say that the prices of peach and kumquat trees this Tet will not rise sharply because there are large numbers of trees flooding into the capital from neighboring provinces such as Hung Yen and Thai Binh provinces.