Yesterday, the Consulate General of the State of Kuwait in Ho Chi Minh City organized the meeting at Park Hyatt Saigon Hotel, HCMC to celebrate the 56th Anniversary of the Independence Day and the 26th Anniversary of the Liberation Day of the State of Kuwait.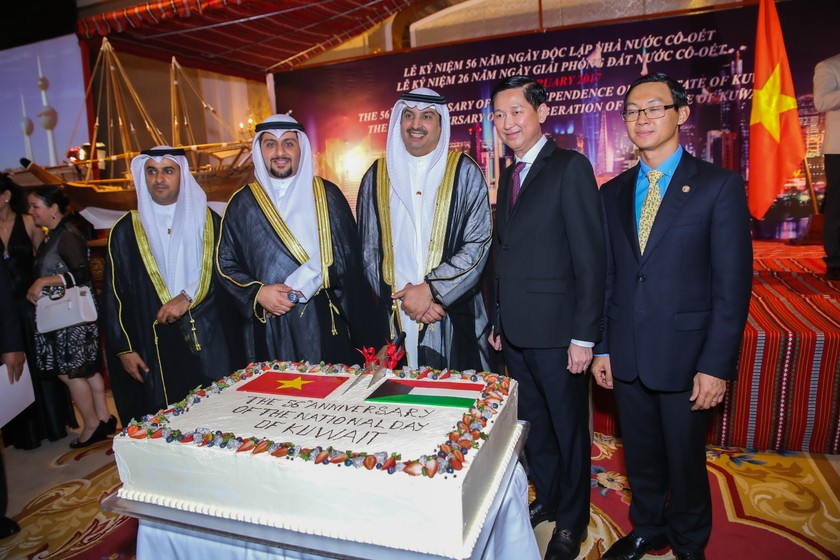 Deputy Chairman Tran Vinh Tuyen congratulates Kuwait on National Day
Deputy Chairman of Ho Chi Minh City People's Committee Tran Vinh Tuyen, agencies of the city, diplomats from the Consular Corps, representatives from provinces in the South of Vietnam, representatives of international organizations and academic institutions, Chambers of Commerce and Industry, entrepreneurs, Kuwaiti expatriates, local media... attended the event.
The State of Kuwait and Vietnam established diplomatic relations in 1976, since then, the bilateral relations have been increasingly strengthened over time. The bilateral relations have thrived through a lot of mutual visits of leaders and high-ranking officials of the two countries, which contributes to making the Kuwait - Vietnam relationship an enduring partnership.
Last year, to mark the 40th anniversary of establishing diplomatic relations between Vietnam and the State of Kuwait, many events were also organized by relevant agencies in both countries.
At the reception, the Consul General - H.E. Mr. Khaled Falah Al-Mutairi said the trade value between Kuwait and Vietnam in 2016 reached around US$ 184 million, with export value from Vietnam to Kuwait was US$ 74 million.
"Vietnam remains one of the ten largest export countries and territories to Kuwait. In March 2016, the Kuwait Fund for Arab Economic Development (KFAED) extended a loan of about US$ 11.5 million (3.4 million Kuwaiti Dinar) to assist in the financing of the Supply of Medical Equipment for Chau Doc Regional General Hospital Project in An Giang province. Since 1979 up to now, the KFAED has provided preferential loans for 14 infrastructure development projects in Vietnam with total capital of about US$ 172 million to assist Vietnam to develop infrastructure projects in different provinces and improve the living standards of the people in the rural and mountainous areas throughout the country", added the Consul General.
Stressing the ceremony, deputy chairman Tuyen congratulated Kuwait on National Day and highly appreciated the consulate general of the State of Kuwait in HCMC in supporting charitable activities in HCMC and the southern region hoping that Kuwait and HCMC will boost economic, trade exchange in the upcoming time.