Vietnam's prime minister, Nguyen Tan Dung, and his Kuwaiti counterpart, Sheikh Nasser al Mohammed al Ahmed, agreed to widen cooperation in financial investment, agriculture and labor at a meeting in Bayan Palace, Kuwait on March 10.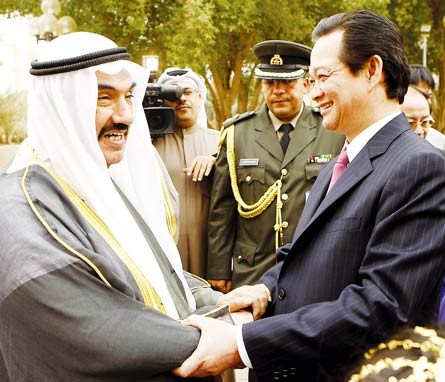 Kuwaiti PM Sheikh Nasser al Mohammed al Ahmed welcomes Vietnamese PM Nguyen Tan Dung on March 10, 2009. (Photo: VNA)
At the meeting, PM Dung praised Kuwait's success in development and expressed gratitude to the Kuwaiti people for helping Vietnam in the fight for Vietnam's independence and the nation's protection and development.
Mr Dung emphasized that the help has contributed in anti-poverty policies and infrastructure building in Vietnam's rural areas.
In turn, Kuwait PM Sheikh Nasser al Mohammed al Ahmed reaffirmed that Kuwait was considering Vietnam as a priority partner in Kuwait's Looking East Policy.
After the meeting, the two prime ministers witnessed the signing ceremony of the Anti-double Taxation Agreement, an agreement between Vietnam's State Capital Investment Corporation and Kuwait Investment Authority and an agreement on agricultural cooperation.
This is the first ever visit to Kuwait by a Vietnamese Prime Minister since the two countries officially established diplomatic ties on January 10, 1976.
Vietnam and Kuwait had previously opened embassies in each other's capital cities. In 2007, Kuwait inaugurated both its embassy in Ha Noi and its consulate general in Ho Chi Minh City.
Although Kuwait shared the National Oil and Gas Group of Vietnam (PetroVietnam) a titanic oil and petrochemical refining project costing USD 6 billion in the first stage, bilateral economic and investment cooperation is still short of expectations, Kuwait's acting charge d'Affairs in Vietnam Osama Al-Obaid said before the Vietnamese PM's visit
In recent years, Vietnam and Kuwait have regularly exchanged numerous visits at all levels, including the trips to Kuwait by State President Le Duc Anh in 1995, Foreign Minister Nguyen Dy Nien in 2005, Planning and Investment Minister Vo Hong Phuc in 2007 and the visit by Kuwait PM Sheikh Nasser al Mohammed al Ahmed to Vietnam in 2008.